About Us
4Wall In The News
4Wall Provides Lighting to LD Mike Grabowski & The Lighting Design Group for Dick Clark's New Year's Rockin' Eve with Ryan Seacrest
By Chauvet Press
Jan 6, 2023, updated Jan 18, 2023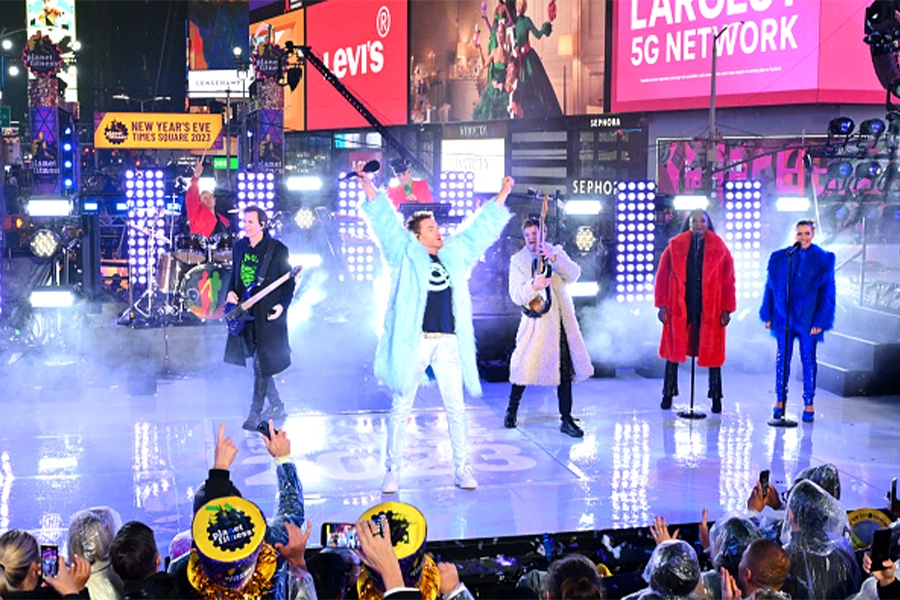 4Wall New York provided a lighting rental package for numerous stages at Dick Clark's New Year's Rockin' Eve with Ryan Seacrest. The rental package included over 100 Chauvet Professional moving light fixtures, including the Maverick MK3 Profile, Maverick Force S Spot, COLORado Solo Battens, Color STRIKE M motorized strobes, and onAir IP Panel 2. This article was written by CHAUVET Professional and posted on Live Design's website, which you can view ​here. 
---
NEW YORK - Mike Grabowski was thrilled with his experience designing the multiple stages under his purview for "Dick Clark's New Year's Rockin' Eve with Ryan Seacrest" in Times Square this year, except for one thing.  His single regret didn't involve the rain that fell for much of the evening, either. After all, the "unpredictability of nature," comes with the territory when lighting outdoor events, said The Lighting Design Group's senior designer. Plus, given that most of his rig was IP65 rated, he had little to worry about regarding the showers. (He and the team have seen a lot of challenging weather, being at Times Square on NYE, for over a decade of these shows.) 

Instead, the biggest disappointment for Grabowski was when, walking back from dinner with the team, he looked up at the cascade of beams hitting the tops of skyscrapers and tracing along the cloud cover, and realized that he didn't have a bat-symbol gobo. After all, he asked himself, who wouldn't see beams that crisp and clear in the sky and not want to project Gotham style Batman logos onto the skyscrapers and clouds with the CHAUVET Professional Maverick Storm 4 Profile fixtures he had in his rig?

"This is a real light cannon," he said of the 1,250-watt profile unit that can project 60,000 lumens over great distances. "We had previously used other big output movers, but this was the first time we experienced something with this level of output; all while not worrying a wit about the weather, since they're IP65 rated. We have some videos of them during one of our crummier days on site when we were able to project sharp gobos all the way up to the clouds. That was a wild experience!"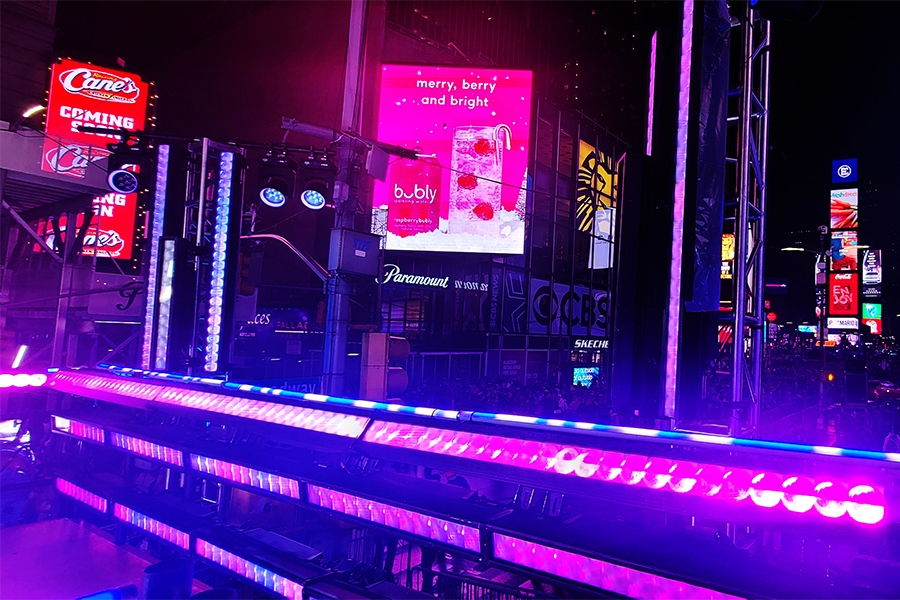 The Maverick Strom 4 Profile units were among 114 CHAUVET Professional fixtures in 4Wall Entertainment supplied rig, with a rental spearheaded by Drew Decorleto and Tara France. The gear was positioned across three locations: Military Island at 44thStreet and Broadway, which is the iconic NYE position for broadcasting the midnight moment; the Powerball Stage, where a lottery drawing for the "first millionaire of 2023" took place; and 1540 Broadway's terrace, which consists of two platforms overlooking Times Square.

All but four of Grabowski's 17 Maverick Storm 4 Profile fixtures were positioned on Military Island, while the remainder were on the 1540 Broadway platforms. From these locations, the high output profiles were used to reflect and project the proverbial "excitement in the air" with intensely bright beam effects. 

"A big thing for me, when we light this event, are the ariel and helicopter shots," said Grabowski.  "The big lights always help "land us" in these massive shots.  I always joke, but I want folks to see our beamage from New Jersey. While that heavy beamage is just silly fun, it does have several practical aspects too. It helps show off the air, especially at midnight. The more light that I throw tracing the air, the more "full" the confetti will feel on the camera. Regarding the rain that fell, it also became infinitely more shootable when we backlit it."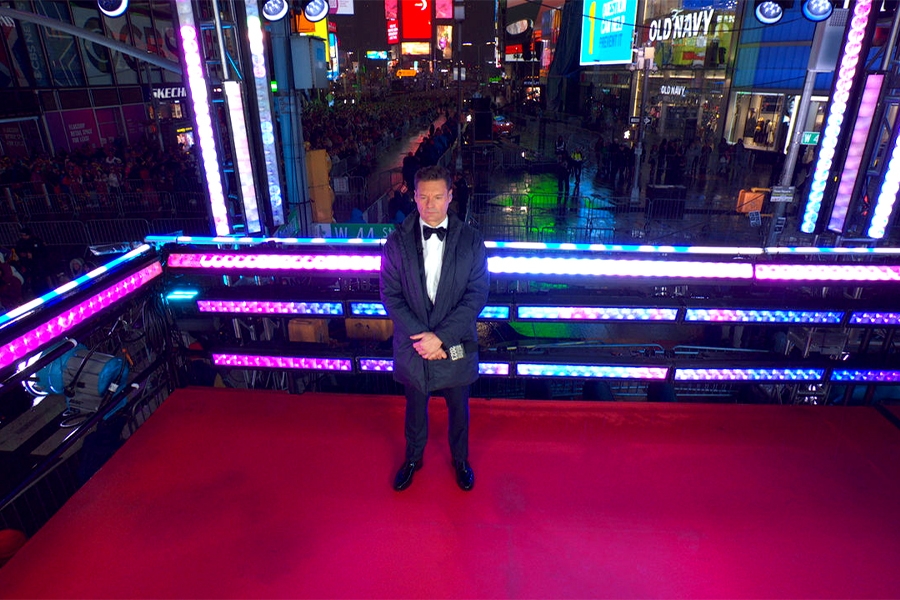 Another new addition to Grabowski's NYE rig this year were its 20 Rogue Outcast BeamWash fixtures, six of which were located on Military Island and 14 on The Powerball stage. "I was excited to incorporate the BeamWash, after only demoing them," said Grabowski. "People who know me, know that I like lights that are functional, but also have unique direct view looks. This fixture certainly fits that bill. Utilizing the BeamWash's FX ring really gave us opportunities for creativity.  We could make the light as prominent or subtle as we needed it to be.
"The versatility of the Rogue Outcast BeamWash really showed off up at our Powerball stage, where our lighting director Declan Moore and programmer Teddy Sosna got some great mileage out of them," continued Grabowski.  "We had a half round stage, but also a set that lefts about 15-inches between its top and the ceiling. As a result, we needed remarkably compact units, but also ones that had some 'curb appeal.' I designed the rig to be a mix of Rouge R2X Beams (there were 21 in the rig) as well as the Outcasts. They fit so well with that compact form factor and allowed us a lot of dynamic looks in our shots up at the Powerball Stage. The ability to add dynamic drama to those quick hits was important. We didn't have a lot of time or many shots, so each look had to pay off, but also be respectful of the content that needed to happen."
Other fixtures in the rig included 12 COLORado Solo Battens, six Color STRIKE M motorized strobes, and six onAir IP Panel 2 units on the Military Island; 10 COLORado 2 Solo par style units, 10 Maverick MK3 Profile, and eight Maverick Force S Spot units on the Powerball stage and four onAir IP Panel 2 units at 1540 Broadway.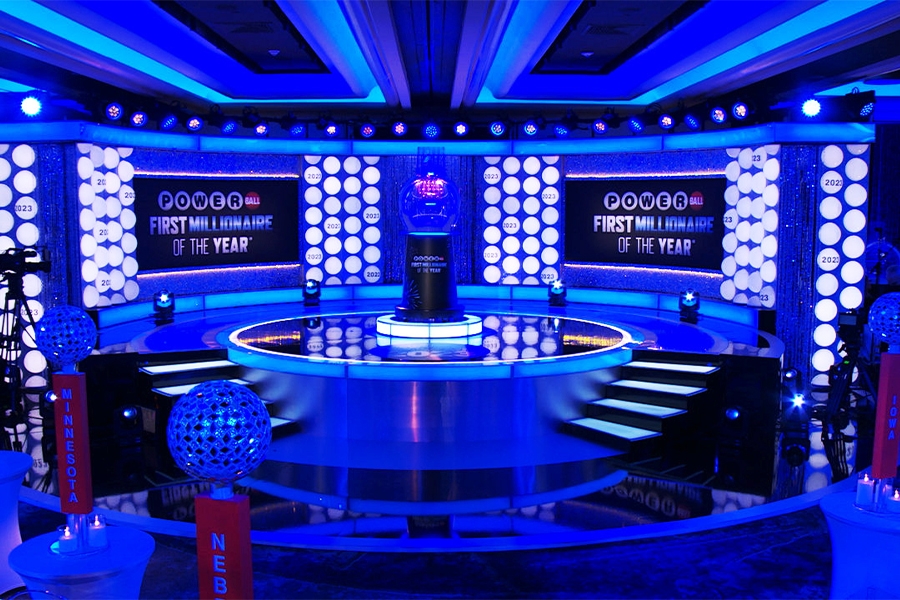 Speaking of the onAir IP Panel fixtures, Grabowski noted, "They may be the most 'overlooked' lights in the rig, but I adore them. They are a bulletproof, super-soft, flattering light that is punchy. They're a solid, workhorse that I never have to think about. The important thing to keep in mind is that you can put all the 'pretty' lights out there to add spectacle, but if you can't see our talent, especially at midnight, not one bit of that eye candy matters."
Beyond any fixtures, however, the key to this show's continued success is the people. Aside from praising their collective creative and technical skills, Grabowski expressed gratitude for the camaraderie of the entire crew.
"In addition to Declan Moore and Teddy Sosna, and Seán Linehan at the Powerball Stage, we were fortunate to have people like longtime collaborator and amazing LD, Sarah Jakubasz spearheading 1540, while Casey Duke was with me.  We also had an amazing support team from IATSE Local 1, led by Joey Cartagena at Military, Paul Braile, upstairs, our great programmers, Ryan Philips, Cypress Staelin and everyone else who pitched in.
Scrolling through photos from the evening, Grabowski said, "look at the pictures and you can see it was a lot of hard work and tough conditions, but with the right team, you can also see it's a family affair," adding that for him and his colleagues, the event is a "homecoming" that they look forward to every December 31.  It's safe to say that the millions of people around the world who see their NYE magic on TV or in Times Square each year feel the same way. 
About CHAUVET Professional
CHAUVET Professional offers innovative professional lighting fixtures for the production and touring market as well as permanent installation in theaters, hospitality venues, cruise ships, clubs, television and architainment applications. For more information, please visit www.chauvetprofessional.com