About Us
4Wall In The News
4Wall Entertainment Promotes Dan Abdalla to Chief Marketing Officer
By Drew Quinones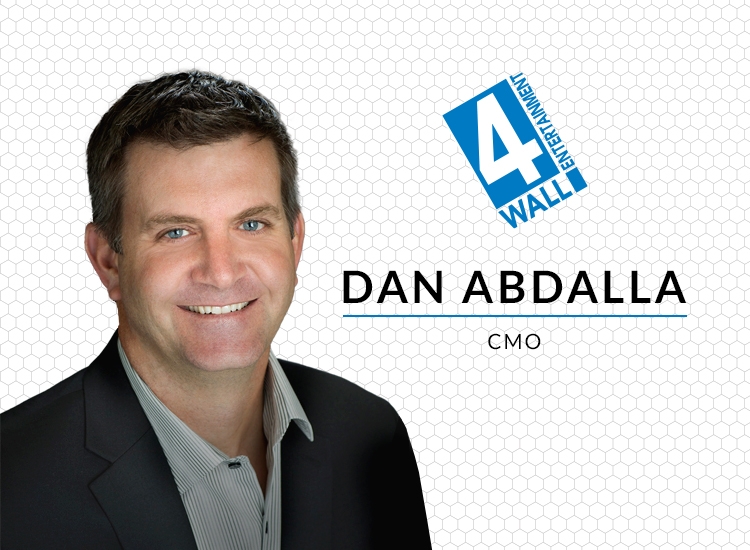 Las Vegas, NV- 4Wall Entertainment, a worldwide provider of entertainment equipment and services, is pleased to announce the appointment of Dan Abdalla, formerly VP of Marketing & Sales, to Chief Marketing Officer.
Dan joined 4Wall in 2015 as VP of National Operations, working on many projects that supported the company's growth in the US and expansion to the UK. In 2017, Dan was promoted to VP of Sales & Marketing, taking an active role in supporting sales teams and business development across all locations.  His work in establishing sales procedures and building a team-based sales culture has been invaluable in making 4Wall a desirable destination for clients and employees alike. 
As CMO Dan will continue to work with all locations domestically and globally on sales strategy while also overseeing all marketing initiatives, including e-commerce.

Before joining 4Wall, Dan served as Associate Athletic Director for the University of Nevada Las Vegas (UNLV), where he played a leadership role in bringing the Las Vegas Stadium to Las Vegas and a $70M renovation project at the Thomas & Mack arena. He received a B.A. degree from UNLV and is also a graduate of the Las Vegas Chamber of Commerce Leadership Program.
"Dan leads with his positivity, humility, and dedication," said CEO Wes Bailey. "He lets everyone know that the team comes first.  From joining our road staff on site to learning from the ground up when he first joined 4Wall, to spending the entire pandemic keeping morale up on weekly sales calls for our locations, he has earned the respect of the company and industry in a very short timeframe.  I'm thrilled to see him take on this new role."
Dan is currently based at 4Wall's corporate headquarters in Las Vegas.