Resources & Training
By Drew Quinones
Created Mar 19, 2020, updated Apr 9, 2020 in
General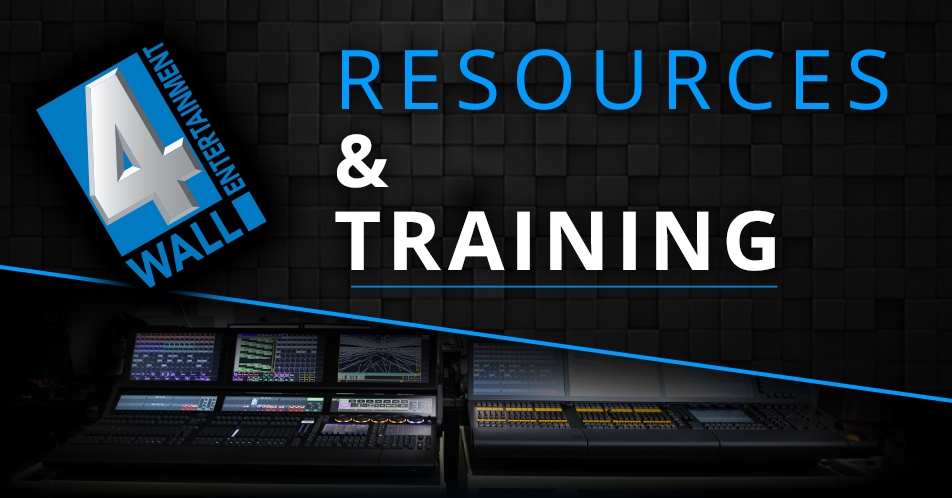 We will be updating this page with resources and training opportunities during these unprecedented times.
If you have questions that the below resources don't answer, submit them to: aquinones@4Wall.com. We will reach out to industry professionals to make sure we get answers to your questions.
Resources
Surviving Coronavirus - Our friends at Soundgirls.org have a growing list of resources broken down by state. They also have some great tips to get you prepared for when work picks up again.
---
Theater Resources - SETC has compiled a list of resources aimed at the theater community. You can even submit your own resources you think are beneficial to the community.
---
---
Live From Nowhere - Live From Nowhere exists to raise funds to assist affected entertainment industry professionals during the unprecedented global outbreak of the COVID-19 virus by providing streamed events in a socially responsible fashion.

---

NAMM Updates and Resources - The NAMM Show has put on several webinars, business resources, and updates on COVID-19 for NAMM members.
Training - Lighting & Rigging
ETC | Learning Stage - ETC made all of their online courses FREE until May 15. They also have a great video series, Eos Family Learning, that you can watch on YouTube here.
---
ACT Academy - ACT Lighting's ACT Academy online courses are available for FREE from now until June 1st. (Use promo code: act4me)
---
USITT Teaching Archive - The USITT Teaching Archive is a FREE online resource for teachers in areas of technical theatre and live entertainment that was assembled by the various USITT Commissions. It features lesson plans for full class period exercises, week- and month-long projects, and even full semesters.
---
Avolites Online Learning - Avolites will be hosting live learning sessions on their Facebook page for both their Titan and Ai platforms along with live webchats with some of the industries leading professionals.
---
---
ChamSys Online Programmers Competition - Enter NOW to win the new MagicQ MQ70 Console! Be one of the first with creativity that fits in the carry-on. Contestants will have the chance to program a massive, 200-fixture CHAUVET Professional rig formerly set to premiere at PL+S 2020.
---
The Rigging World - Andrew Fulton has written some helpful articles about rigging safety for Exhibit City News. He let us know more articles with be available soon.

---

Vectorworks Spotlight Essentials Seminar FREE - You will explore some of the most common workflows and utilize the latest tools and commands of Vectorworks Spotlight software. Designed to help you save time, by designing more efficiently, this seminar will cover the fundamental knowledge, needed to be successful with Vectorworks Spotlight software. (Use promo code: MAGNUM)

---

Lightwright 6 Beta - Many colleges and universities who use Lightwright are now conducting classes remotely, which means their students do not have access to the school's computer lab and Lightwright licenses. A special emergency Lightwright license is now available for anyone who needs to use Lightwright under these circumstances between now and June 1, 2020.

---

A4I.tv | Rigging Trussing Television - This online video training series' mission is to elevate event engineering & safety practices through education programs in partnership with leading industry professionals.

---

Obsidian Control Systems | Free Training - Obsidian is offering free weekly training sessions covering the ONYX control platform and the new NETRON data distribution range. These classes will be hosted online and are available globally for anyone interested in learning more about Obsidian's advanced yet intuitive lighting control products.

---

Astera Academy - For all of those who want to learn more about Astera software and hardware they now offer free webinars.

---

VIDEOS | Pathway Connectivity - Pathway Connectivity is the leading data communications company in the entertainment lighting industry. Check out all of their YouTube Channel to learn more about their products.

---

HARMAN Professional University - Martin introduced a new Live Workshop Series of one-hour webinars that cover a variety of audio, video, lighting and control topics, tips, tricks, product training and more - presented by industry and HARMAN knowledge experts.

---

ADJ - 'Stay Connected' Educational Series - Over the next few weeks, ADJ will host a series of live video broadcasts that will provide educational content and in-depth product overviews. Each installment of 'Stay Connected' will have a specific focus and provide an opportunity for lighting and event professionals to upskill from the safety and comfort of their own homes.

---

Vista by Chroma-Q | Training & Events - Join Vista's experts for FREE Vista 3 lighting and media control training, from the comfort of your own home. Every Wednesday and Thursday throughout April, Vista will be bringing you free Vista 3 training webinars on a range of topics, including; programming techniques and tips for a variety of different applications.

---

Imagineering in a Box - The Themed Entertainment Association (TEA) & Walt Disney Imagineering is now offering a free educational series available online and produced in partnership with nonprofit Khan Academy. The series offers lessons and exercises in storytelling, theming, dark rides, building design, character design and more.
Training - Video
disguise | Fundamental Training - disguise's Fundamental Training sessions will be starting on Tuesday, March 24, 2020. The training will be on Tuesday & Thursday and split into six 1 hour sessions, teaching the core features of disguise including the timeline, stage, how to configure output feeds, and how to set up devices.

---

HippoSchool - Green Hippo's HippoSchool is designed specifically to show you how to operate, configure and get the most of your Hippotizer media server.

---

Barco Event Training | Basic & Primer - The Basic Barco Event Training course is designed to present the basics of the Event Master family of products. The Primer course is intended for those students with limited exposure to the world of live event presentation switching. Experienced students may find the material useful as a refresher or to update their current knowledge.

---

Analog Way Training - Analog Way is committed to supporting its customers through training tailored to individual needs. Whether you are an integrator, consultant or freelance technician, Analog Way offers training that will enable you to take full advantage of our AV processors and media servers in various environments.

---

Ross University - Want to learn more about Ross Equipment? Ross University is a collection of tutorial videos touching many products and subjects.

---

Notch Academy - Notch has over 4.5 hours of structured learning, that take you from the basics to more advanced techniques.

---

ProVideoPlayer 3 Tutorials - From beginner to advanced video tutorials, these tutorials are a great way to familiarize yourself with the PVP3.

---

Resolume Video Training - Resolume took the secret tips and tricks of the best professional VJs and poured their years of experience into 2 hours of in-depth, practical video training. This is not a boring this-button-does-that classroom. It's a practical course that demonstrates the art behind the technicalities.

---

QLab Education - Explore educational resources that help you better use QLab.
For Fun
Moving Light Madness - Our friends at LimeLight Wired are putting a March Madness type bracket challenge together with moving light fixtures. They also post some funny memes and useful information for people in the industry.

---

LD At Large Podcast - LD Chris Lose takes time to lay out his unique philosophies that have allowed him to succeed in the hard knocks business of rock 'n roll touring.

---

Geezers of Gear - Geezers Of Gear is a podcast by production industry veterans, created to discuss anything and everything related to live show production and gear.

---

Light Talk with The Lumen Brothers - LIGHT TALK is a place where lighting designers can feel free to express what really annoys them about the industry, lighting education, and the art of stage lighting design.