Shuttered Venue Operator Grant (SVOG): The Curtain Rises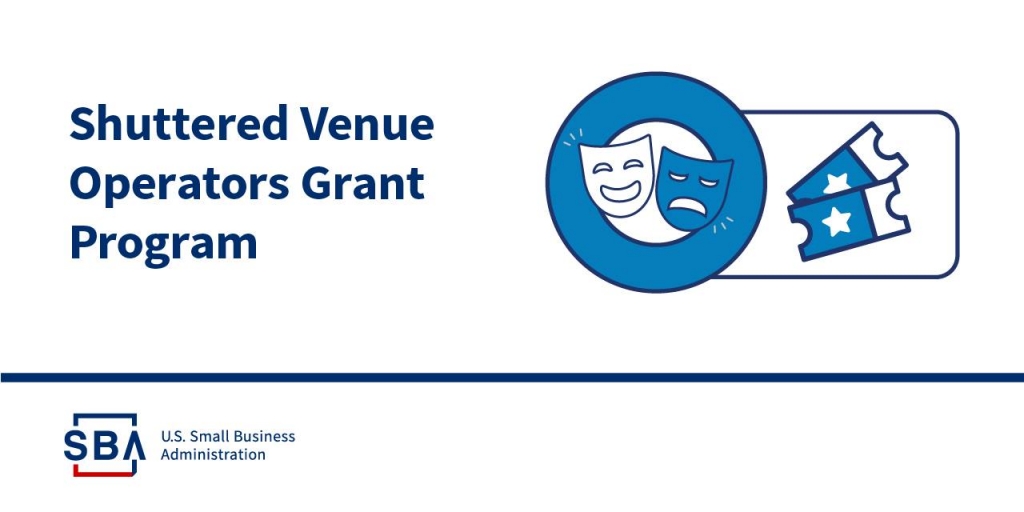 The lights have been off for too long. It's felt like a lifetime since your clubs, theaters, halls, and bars have been filled with the roar of the crowd. But with this week's passage of the American Rescue Plan, many venues are one step closer to a lifeline that will help bring your stages back for good: the Shuttered Venue Operator Grant (SVOG).
You might have heard this package called by its original title, "Save Our Stages".  The name has changed, but the concept is the same. The Small Business Association - which also handles the Paycheck Protection Program (PPP) -  has been given $16.25 billion to grant to eligible live venue operators who experienced a loss of revenue in 2020.  Generally speaking, venues, theaters, and museums that were fully operational on February 29, 2020, and are not owned by a company traded on the stock exchange are eligible for a grant equal to 45% of their 2019 gross revenue.  The amount of any PPP loan taken after December 27th will be deducted from the total grant award. Figuring out eligibility is a bit more complex for companies with subsidiaries or those with more than 500 employees or operating in multiple states/countries, but most independent venue operators should be prepping now for this once-in-a-generation opportunity to aid their recovery.
Depending on the type of venue you operate, the eligibility requirements get a bit more detailed. For example, a live venue/performing arts/theater operator is required to show that either 70% of its revenue is generated through cover charges or ticket sales, OR its principal business activity is selling tickets 60 days before the date of its live events. Since this is federal money we're dealing with, there's lots of jargon to decode and lots of fine (ridiculous?) details to decipher.  Like this - live venue operators will be required to show proof they own a light rig, soundboard, and PA system.  You'll also have to show you have certain types of employee roles on your staff, like box office manager and/or sound engineer.  The wording is complicated, but these are requirements that the vast majority of you already meet.  The task will be lining up the correct documentation required to submit with your application to prove eligibility.  This includes filing your required federal registrations, a vital step that we'll talk about in a minute.  
Until this week, the SBA has been tight-lipped about when the actual application period was going to open.  Multiple reports are now saying early April they will be ready to go live.  In the meantime, there some critical, time-sensitive steps you need to take to make sure ready for the race to this grant funding.  It starts with registering for your DUNS number and then using that to register in sam.gov.  DO THIS NOW.  The registration process can take up to 15 days and you want to be ready to go on the day the application opens.  Once you're registered, you can begin working on collecting the items on the SVOG preliminary checklist. You'll need backup documentation on your payroll, gross revenue for 2019 and 2020, tax documents, and floorplans.  More is better when it comes to submitting backup for a federal grant, so go the extra mile with your record collecting now to make sure your submission is solid on the first try.  And stay tuned to the SBA's webpage for updates on the application's launch date.  You can also sign up for email updates, but so far they haven't worked and I wouldn't trust it as my sole way to find out about the launch.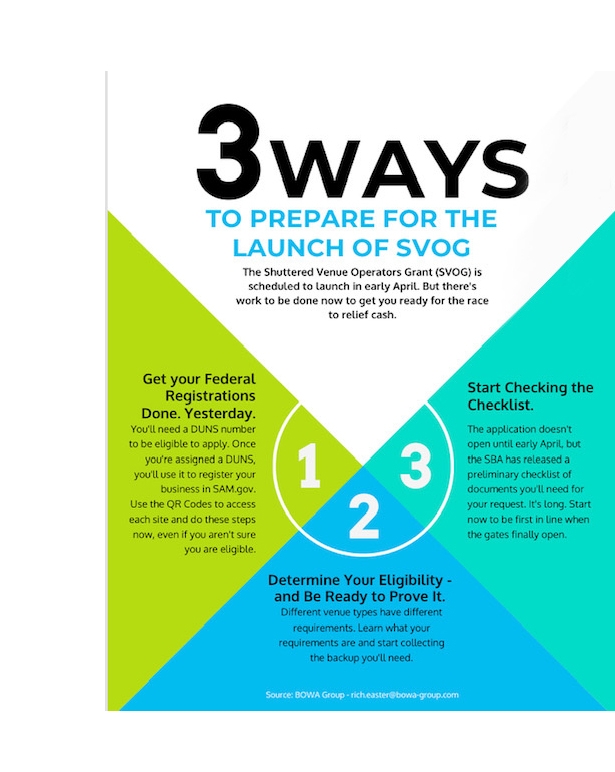 So you get in, you get awarded. Now what? SVOG is a grant and not a loan, so you don't have to pay back any of the amounts you receive through this program as long as you follow a few simple rules.  You can spend the money on any normal business expense going back to March 1, 2020, and as far forward as 12 months from the date you receive your check.  The one caveat for older expenses is to make sure you haven't already claimed them from some other source of COVID assistance, like PPP or a small business grant/loan.  Payroll, rent, contractors, PPE, facility safety improvements, and other normal business expenses are all eligible uses for the money.  And unlike PPP, you don't have to spend a minimum on payroll to avoid a penalty.  But this is a grant, so you'll want to keep good records (receipts) of all the things you charge to SVOG funding.  If you receive more than $750,000 in SVOG money, you'll also have to hire an accountant to perform a Single Audit at the end of the fiscal year.  That's a whole different article but plan on putting some money aside from your grant to cover that cost.  All things considered, it will be a good problem to have. 
It's going to take years to really understand the full impact of COVID-19 on the industry.  Live venue operators are losing more than just ticket sales and bar revenue. They're losing a piece of themselves. Without live entertainment, we all are.  But as the world stands on the edge of reopening, hopefully, the SVOG will provide the boost that the industry needs to survive - and thrive.
Rich Easter is a live music junkie and the founder of BOWA Group. He's secured more than $50M in COVID relief funding and helped create small business and rent/utility grant programs that have distributed more than $10M in aid. Contact him at rich.easter@bowa-group.com or visit bowa-group.com.