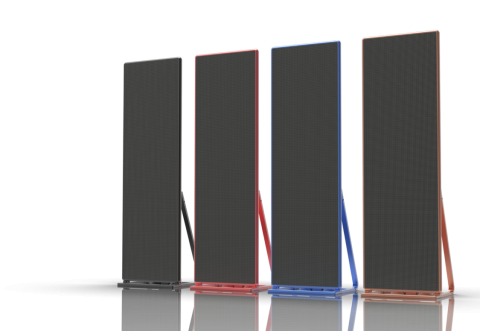 2.5mm Desay LED Poster Screens
Details
Description
Achieve high-impact and high-resolution imagery with our 2.5mm LED digital signage screens.
Use the screens in portrait or landscape format, flown or in an angled formation for a unique display at your next event.
Creative Formations: The 2.5mm LED digital signage screens can be used in a range of creative formations, including flown and angled positions, as well as portrait and landscape. You can also combine the screens to create a larger canvas to feature bespoke totem content and run impressive content takeovers.
High-resolution Display: With a pixel pitch of just 2.5mm, our LED digital signage screens offer a high-resolution digital signage solution perfect for close-proximity viewing at conference, events and in stores. The poster screens are the perfect solution for both informational content and brand advertising.
Remote Content Deployment: Using a content management app, the digital signage screens can be updated remotely by connecting to the screen's unique WiFi identifier or using 4G networks. Plan your content and upload with bespoke templates to the app to generate digital advertising to captivate your audience.
Quick & Easy Installation: Use ceiling, floor and wall mounts to give your audience a new perspective on your digital signage. Able to plug and play and with modest power consumption, the LED digital signage screens are quick and easy to install with seamless results and an acrylic overlay for protection.
We ensure our equipment is maintained to the highest standard, ready for your next event. Our experienced team of account managers, project managers and technicians are ready and waiting to help you create the perfect video and lighting experience.
Downloads
Features
Pixel pitch: 2.5mm
Resolution: 224 pixels x 756 pixels
Dimensions: 614mm x 1942mm x 40mm
Brightness: >1000 nits
Viewing angles: 140° (h) 140° (v)
Weight: 35kg
Refresh rate: 2880Hz
Max power: Max.:350W/set Avg.: 122W/set
Content deployment: Via NovaStar VNNOX cloud