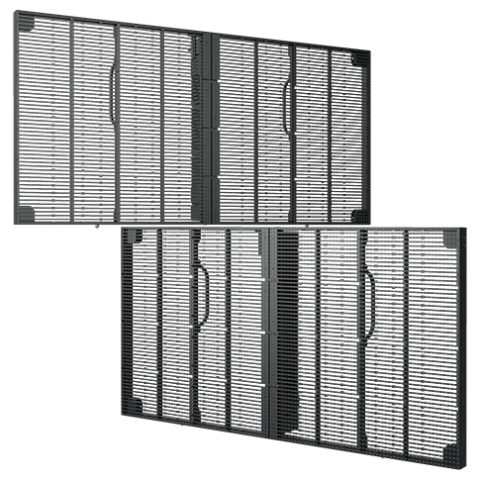 8.9mm ROE Vanish V8 Transparent LED
Details
Description
The Roe Vanish V8 can reach an impressive transparency of up to 60% - ideal for permanent installations, creative activations and events. With easy installation and lightweight panels, the Vanish V8 is ideal for concerts & touring, product launches and exhibitions looking for a bold creative display.
High transparency: The Roe Vanish V8 can be used as either a transparent or non-transparent panel, providing up to 60% transparency. The panel itself has a clever minimal design to maximise the transparency.
Lightweight and easy to handle: The Vanish V8 weighs just 6.5kg per panel, enabling easy handling for large-scale events and tours working to a tight build schedule.
Creative applications: The Roe Vanish V8 transparent LED is ideal for an event that is looking to showcase something spectacular - with the ability to create unforgettable scenes behind and in-front of the LED.
Easy maintenance: The Vanish V8 is designed in a modular formation to enable easy access and maintenance. The panels also feature a side lock to ensure road-proof installation.
We ensure our equipment is maintained to the highest standard, ready for your next event. Our experienced team of account managers, project managers and technicians are ready and waiting to help you create the perfect video and lighting experience.
Downloads
Features
Pixel Pitch: 8.9mm
LED Configuration: SMD 1515 Black
Max Brightness Calibrated: 2500nits
Panel Dimension: 1000 x 500 x 35mm (Power Box 100.7mm), 39.4" x 19.7" x 1.4" (Power Box 3.9") 
Panel Resolution (H x V): 112 x 56
Weight Per Panel: 6.5kg; 14.33lbs
Power Consumption Max/Average: 320W / 160W
BTU Max/Average: 1092 / 502
Transparency: 60%
Curving (Concave & Convex): Concave 15°~Convex 5°
Viewing Angle Vertical: 140°
Viewing Angle Horizontal: 160°
Refresh Rate: 6576Hz
Gray Scale: 16bit
Operational Temp/Humidity: -20° -45°C 10-90% RH -4° -113°F 10-90% RH
Storage Temp/Humidity: -40° -60°C 10-90% RH -4° -140°F 10-90% RH
IP Rating: Indoor
Certifications: CE, ETL, FCC
Multiplexing: 4