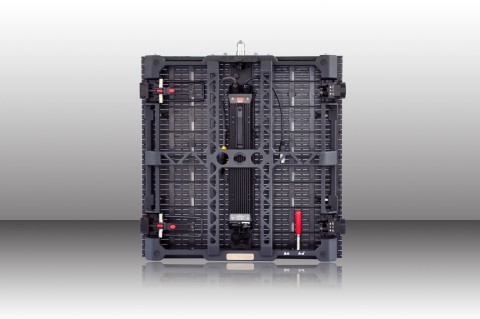 Details
Description
The ultra-reliable MC-7H is a high brightness 7.5mm indoor/outdoor LED display. The panels come paired with a specially designed climbable, robust touring frame which features a fast locking system making them ideal for the rental and touring market. The panels are easily removed from their touring frame allowing for easy maintenance in any environment even when the screen has been installed. The MC-7H delivers incredible image quality. This is due to the panels' small pixel pitch, high refresh rate and exceptional contrast. It's pixel by pixel 16bit colour calibration system ensures image uniformity, whilst its latest 2727 SMDs allow for higher contrast when compared to its competition.
It's purpose built and user friendly Evision control system is powered by Colourlight. It can support resolutions up to 1920 x 1080 @ 60Hz with DVI and HDMI input connectivity and gigabit ethernet sending ports. The MC-7H is easy to use, robust and highly adaptable, allowing for maximum creative and design flexibility.
We ensure our equipment is maintained to the highest standard, ready for your next event. Our experienced team of account managers, project managers and technicians are ready and waiting to help you create the perfect video and lighting experience.
Downloads
Features
Pitch: 7.5mm
LED Type: 3 in 1 SMD
Number of Pixels: 80 x 80 (6,400)/ Panel
Pixel Density (pixel/m2): 17,778
Panel Dimension (LxHxD): 600mm x 600mm x 85mm
Brightness: 6,000 NITS
AC Power In: AC 110v - 240v +/- 10%
Power Consumption: 400w/unit (1.74 amps)
Max Hanging: 20 Panels
Max Stacking: 8 Panels
Weight/ Panel: 14.8kg (27.56Ibs)/ Panel
Curve: -10° / 0° / +100
Grey Scale: 16bit
Scan: 1/4
Refresh Rate: > 2,000Hz
Viewing Angle - Vertical: >110°
Viewing Angle - Horizontal: >100°
Working Temperature: -25°C to + 45°C