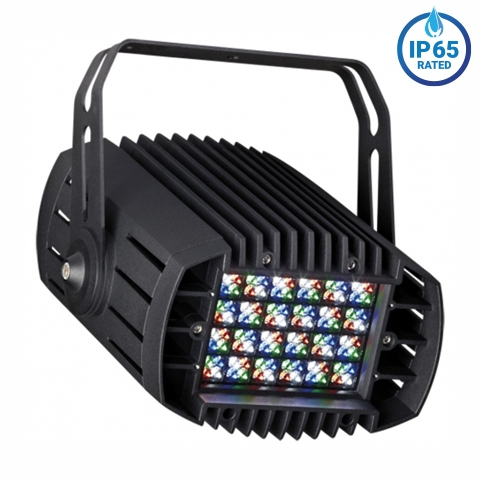 Robe CitySource 96 - IP65
Details
Description
The most powerful outdoor LED fixture on the market is just released! 96 High Power Luxeon Rebel RGBW LEDs!
The LEDs are densely populated, providing an extremely bright light output. The unit is completely silent due to the convection cooling system, and its IP 65 rating means it can be used for a variety of exterior installations.
It is an ideal fixture for illuminating large buildings and indoor/outdoor stages, thanks to the high light output of the LED modules. The unique combination of RGBW LED colours delivers a stunning quality of white light, not seen in other competitive products.
We ensure our equipment is maintained to the highest standard, ready for your next event. Our experienced team of account managers, project managers and technicians are ready and waiting to help you create the perfect video and lighting experience.
Downloads
Features
Optical & effects specifications
Light source: 96 high power RGBW Luxeon Rebel LEDs
Standard optical system: 12 ° beam angle and eggcrate lens module 25 °
LED life expectancy (according to B10L70 criterion): 60,000 hrs (Eco mode), 12,000 hrs (High power mode)
RGBW colour mixing
Built-in colour macros
Adjustable strobe sequences
White colour balance adjusting
Pre-programmed random strobe pulse-effects
Control and programming
Control panel: 4-digit LED display and four control buttons
Control: USITT DMX 512 (RDM support)
DMX protocol modes: 6 (2, 3, 4, 8, 12 control channels)
Operations modes: DMX, Stand-alone, Master/Slave
Manual control of all effects via control panel
3 user editable programs each up to 68 steps
Smooth 16-bit dimming from 0-100 %
Optional wireless version available: CRMX™ technology from Lumen Radio
Thermal specification
Maximum ambient temperature: 40 °C
Maximum housing temperature: 80 °C
Electrical specification and connections
Power supply: Electronic auto-ranging
Input voltage range: 100-240 V AC, 50-60 Hz
DMX data IN: 1.3 m long cabel with 5-pin Indoor XLR (male)
DMX data OUT: 1.3 m long cabel with 5-pin Indoor XLR (female)
Power: 1.4 m long power cabel without plug
Power consumption
High power mode: 200 W (power factor=0.94, I=0.83A)
Eco mode: 115 W (power factor=0.89, I=0.58A)
Mechanical specification
Height: 300 mm (11.8")
Width: 327 mm (12.9")
Depth: 316 mm (12.4")
Mounting bracket adjustment range: 360°
Weight: 11 kg (24.3 lbs)
Protection factor: IP 65
Rigging
Via Omega clamp (Floor stand included)
Optional accessories
Barndoors
Eggcrate lens module 45°
Eggcrate lens module 32°x12°
Eggcrate top hat module (without lenses)
Top hat
Half top hat
Single Top-loader case (without castors)
Dual Top -loader case
Quad Top-loader case