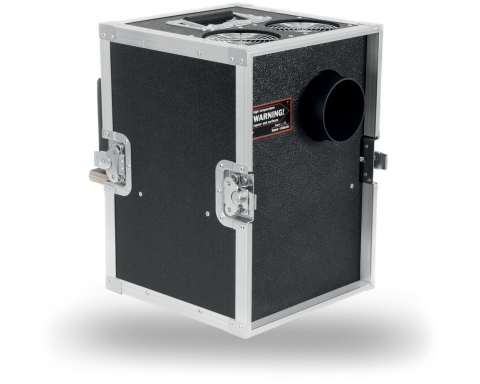 Hazebase 1300w Fog Machine
Details
Description
The Base Classic Cased is the go to machine for every professional. Compact design and powerful output are complimented by the efficient and variable output, this machine as is designed for versatility, efficiency and reliability.

The Base Classic Cased reaches operation in less than 7 minutes. It can be controlled via DMX using only one channel or built in onboard timer. Wired and wireless controllers are also available.

Base Classic Cased water-based fluid is designed for any environment. From a quick dissipation to a dense fog that will hang in the air. The unit can run continuously at 50%.
We ensure our equipment is maintained to the highest standard, ready for your next event. Our experienced team of account managers, project managers and technicians are ready and waiting to help you create the perfect video and lighting experience.
Downloads
Features
Power: 230 V AC, 50Hz
Procedure: Vaporising Fog Generator
Warm-Up Time: Approx. 7 mins
Power Requirement: 1300 W
Fluid Consumption: At max. output 120ml/min; at cont. output 35ml/min
Fluid Tank Capacity: 5 Litre
Fog Output: Adjustable in steps at 1% (0-99)
Fogging Time: At 100% output approx. 40 seconds; at < 50% output, continuous output
Control: DMX 512 0-10 V
Temperature Control: MIcroprocessor controlled
Dimensions (L x B x H): 53cm x 23cm x 24cm
Case Dimensions: (L x B x H): 48cm x 30cm x 45cm
Weight Without Fluid: 12kg