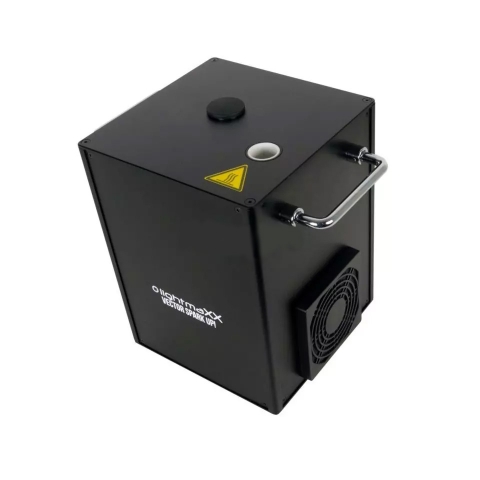 lightmaXX Vector Spark UP!
Details
Description
The lightmaXX Vector Spark UP! is an impressive Indoor Spark Effect without pyrotechnics for stages and events. Due to the specially developed Granulate the Spark machine can produce Spray Fountains up to 5m high. The emerging Sparks are cold, so are completely harmless to Flammable Materials.
The Spark UP! is equipped with Temperature Sensors and a Self-Cleaning Function. To ensure maximum safety during operation, the machine is equipped with an Automatic Stop that prevents Sparking if the machine is tilted by more than 45°. In addition, the Vector Spark UP! switches off Automatically after 30 seconds of continuous ejection and can then be reactivated.
We ensure our equipment is maintained to the highest standard, ready for your next event. Our experienced team of account managers, project managers and technicians are ready and waiting to help you create the perfect video and lighting experience.
Downloads
Features
Manufacturer: lightmaXX
Cooler: Yes
DMX Controllable: Yes
Remote Controllable: Yes
Remote Control Type: IR
Overheat Protection: Yes
Self Cleaning Function: Yes
Illumination Included: No
Total connected load (watts): 650
Width (cm): 18.5
Height (cm): 18.5
Depth (cm): 25.2
Weight (kg): 5.9