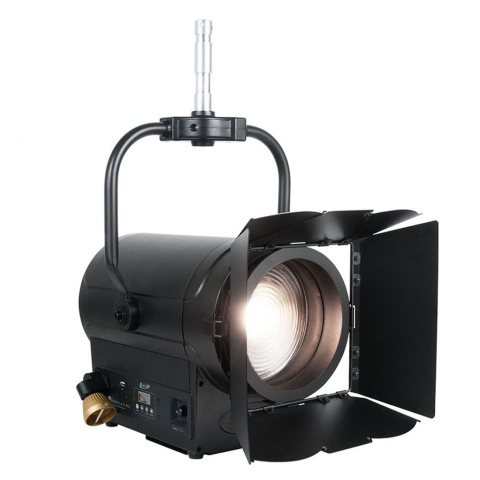 Elation KL Fresnel 6 FC PO
Details
Description
The KL Fresnel 6 FC incorporates a highly efficient 5-in-1 (RGBMA) LED engine that produces up to 8,000 field lumens with a manual Zoom range of 10° to 32°.

Outstanding colour rendering quality, precise CCT presets, and remotely adjustable LED refresh frequency makes this unit the perfect choice for today's fast-paced production environments.
Rugged and portable, the fixture can be mounted on a stand or suspended using any standard clamp. It is fully self-contained without the need for an external power supply and offers locking power pass-through for easy linking of multiple units.
Downloads
Features
220W RGBMA LED Engine
Dynamic White + Full Spectrum Color Control
8,000 Total Fixture Lumen Output
10° to 32° Wide Manual Zoom
Stand-Alone control with Encoder and LED Display
Smooth 16-bit Selectable Dimming Modes and Curves
LED Refresh Rate Adjustment
Flicker Free Operation for TV and FILM
RDM (Remote Device Management)