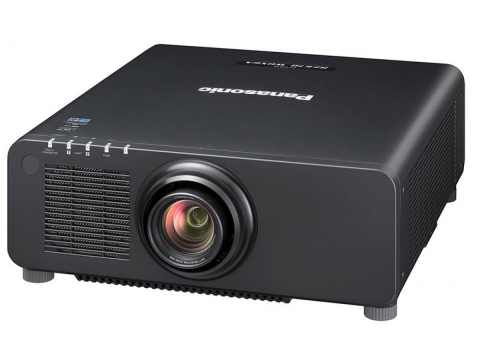 Panasonic PT-DZ6710 (16:9) Projector
Details
Description
With 6,500 lumens and a 2,000:1 contrast ratio, the Panasonic PT-DZ6710U DLP Projector possesses the image power to project vivid, saturated pictures in a variety of lighting situations. Panasonic's 1-chip DLP projector offers brighter and more vivid images with full high definition resolution.
1-Chip DLP Projector
RGB Booster
Vivid Colour Control
Lamp Modulation Drive System
High Brightness 6,000 lm with New AC Lamp
System Daylight View 2 for Enhanced Colour Perception
Full 10-bit Picture Processing
More Effective Noise Reduction
Liquid Cooling System Attains a High Level of Reliability
Powered Vertical/Horizontal Lens Shift
We ensure our equipment is maintained to the highest standard, ready for your next event. Our experienced team of account managers, project managers and technicians are ready and waiting to help you create the perfect video and lighting experience.
Downloads
Features
Brightness: 6,000 ANSI Lumens
Resolution: 1920x1200
Aspect Ratio: 16:10 (WUXGA)
Contrast: 2,000:1 (full on/off)
Display Type: 2 cm DLP x 1
Colour Wheel: 4 segments
Colour Processing: 8-bit
Video Modes: 720p, 1080i, 1080p/60, 1080p/24, 1080p/25, 1080p/30, 1080p/50, 1035i, 525i, 525p, 576i, 576p, 625p, 1125i, 480p, 480i
Data Modes: MAX 1920x1200
Projector Size: 18 cm x 50 cm x 44 cm (HxWxD)
Weight: 16.0 kg
Internal Speakers: No
Power: 820 Watts
Connection Panel
Composite: BNC
DVI Digital Input
Network: RJ-45
RGB In: BNC
RS232: DB-9pin
S-Video
VGA In: Dsub-15pin
Features: 2:3 Pulldown, Operate 24/7, Edge Blending
Additional Features: HD-SDI input, Geometric Adjustment Capability, RGB Booster.